Customer Service Centre
The Customer Service Centre is at the heart of the Business Systems service and support division. Providing operational support it contains dedicated teams focussed on call handling, case management and project administration ensuring we continue to provide our customers the premium service that they have come to expect for more than 25 years. We have a proven track record of meeting 99.999% of all Service Level Agreements.
Working to an ITIL like standard our Customer Service Centre provides front line support by ensuring that we continue to provide the most efficient and professional service to our clients, partners and suppliers.

Case Management

Every case is assigned to a dedicated Customer Service Coordinator responsible for ensuring it is logged and actioned efficiently and within each customer's designated Service Level Agreement (SLA).

Project Management

The project administration team, work closely with the project management team who have the remit of ensuring that all new installations are processed and implemented as quickly and smoothly as possible and matched to customers' timescales and expectations.
Remote Monitoring of Call Recording Systems
Our commitment to delivering great technology is not just limited to customer requirements, using proprietary or bespoke alerting systems Business Systems can provide 24/7 alarm reporting functionality in line with a customer's chosen SLA. These alerts are flagged within the Customer Service Centre and an engineer can investigate and resolve issues often before the customer is aware that there was even a problem.
Call Recording Engineers
All Business Systems Technical Support Engineers are direct employees and are fully trained and certified to work on the wide portfolio of products which they install and support. We employ more engineers than any of our competitors, including manufacturers and have offices in the City of London and Falkirk as well as home-based engineers located across the rest of the UK.
Collectively the team has over 240 years worth of voice recording and associated technology experience.
To find out more about our service and support division, email us or call 0208 326 8300
Get in touch
Video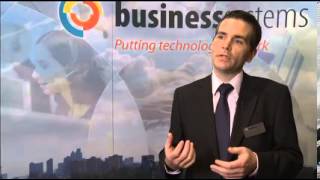 Business Systems has specialised in call recording and related technologies for more than 30 years and today ranks as the UK's most experienced provider with in-house expertise covering:- systems design.
View document